Replanting To Bring The Birds Back
2020 - 2022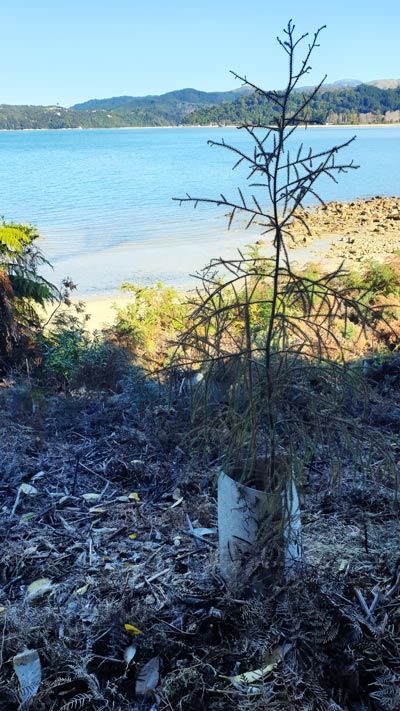 With the help of volunteers we've been busy weeding, maintaining, and have increased planting during this period (as Covid restrictions have allowed).
In 2020 the group planted another 500 plants and in 2021 800 plants all with a mind to increasing the birdlife in this part of the Abel Tasman National Park which has been farmed in the past. Because of previous farming and the use of burning to clear vegetation for grass the area is now abundant with weed species.
By continuing with the Tinline Restoration project, the Birdsong Trust hope to re-establish areas of native planting and encourage the birds back into the area.
We have 500 more plants ready for the 2022 planting season in August.
2019
Karina has organised a contractor to cut the pockets and clear the scrub initially and then Rod and Angus and her have organised the plants on to the sites for the volunteers to plant. We also helped to organise the planting day and have been in to check on the plants further.

She has established a maintenance plan and we intend to plant a further 500 trees next year and the same in the following year with the aim of encouraging birds back into this depleted part of the Abel Tasman. We will be planting pockets of bird attracting species, endemic to the area, from seed sourced in the Abel Tasman National Park.

We also need to be ensure the species we plant are not grazed by the remaining pigs, deer, goats and possum. Our aim is to plant the gorse and bracken covered sites to encourage the birds to start bringing seed back into the area and enhance the initial revegetation work along the entrance to the Abel Tasman National Park.

Abel Tasman Charters donated the cardboard sleeves, canes, fertiliser tablets and water crystals along with the labour and transport of the plants to the site. We feel this work contributes in minimising our carbon footprint.

These trees not only help the immediate environment, providing food, nesting sites and homes for birds and insects (which in turn provide more food for the birds), they also tie up carbon for their life.

Rod ran our fuel consumption for the season through the carbon neutral calculator. Our commitment to this planting within the Abel Tasman – the environment that we work in - is to ensure the trees are not only planted but maintained to enable them to reach maturity (something that some other schemes spend a lot of money on but we're pleased we can do directly)