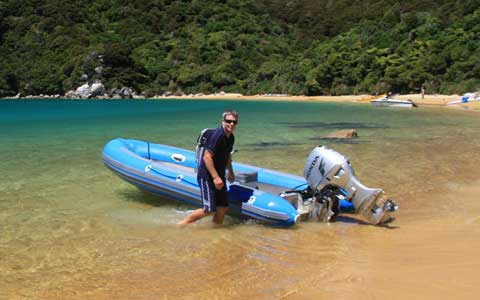 Rod Stuart
A local in the true sense of the word Rod was brought up in Kaiteriteri where his mother still waves a tea towel off the deck to the boats in the morning.

Rod's passion for the Abel Tasman is evident as he shares his piece of paradise with you. He grew up snorkelling, diving and boating every nook and cranny of the coastline, leading him to complete a BSc in Zoology at Canterbury University, to follow his passion for marine biology.

After operating several local business and travelling around the world for a couple of years Rod grabbed the opportunity to run a tourism business, Abel Tasman Aqua Taxis, with Jane and Kelvin Goodman in 1998.

This successful venture renewed his love of the Park and allowed him to showcase this amazing environment to world travellers. During this time Rod and Kelvin developed the design of the osprey boats used by the company, and supported the development of a marine reserve and the Abel Tasman Birdsong Trust.

With the sale of Aqua Taxis in 2003 Rod and his partner, Karina established Abel Tasman Charters with the aim of providing a more intimate personal trip for travellers with low impact on the environment.

This led to the purpose built Taranui, an 11 metre semi displacement power catamaran surveyed for 25 day passengers. The semi displacement hulls allow for greater fuel efficiency as well as providing a smooth ride.

He'll be one of the skippers to greet you on your cruise.
Emma Buscke
In 2014 we welcomed Emma Buscke (pronounced Bus key) as our new skipper at Abel Tasman Charters.

Emma grew up in Ocean Beach, Hawkes Bay where her love for the sea, boating and great outdoors began.

She studied Outdoor Recreation Guiding & Leadership at Christchurch Polytechnic and then spent a year in the USA in the Out Door Department at Appalachian State University, sharing her love for adventure with up and coming outdoor leaders.

She fell in love with the Abel Tasman when she brought a group of American students back for a kayaking tour, revelling in this beautiful part of New Zealand, where she felt at home.

Emma has extensive boating experience and a passion for the local landscape which has seen her train and work as a kayak and walking guide in the Abel Tasman National Park before obtaining her skippers ticket.

This experience is evident in her extensive knowledge of the history, wildlife and ecology of the area and ensures she can cater to your area of interest on your cruise.

Emma's friendly personable manner and highly professional attitude makes her a fantastic addition to our team and we are delighted to have her as part of the Abel Tasman Charters family.

She looks forward to welcoming you on board and ensuring you enjoy your time in the beautiful Abel Tasman National Park.
Environmental Responsibility
The Abel Tasman National Park is a treasure (taonga) that must be preserved for future generations.

To ensure this we strive to all act in a sustainable way. We are committed to caring for our local ecosystems as well as the wider global environment.

Some of the key areas that we manage to this end are;

Energy efficiency - as with all transport operations, fuel use is one of our greatest environmental impacts. We minimise this, by using an efficient catamaran hull design. We constantly monitor our engines performance with specially installed fuel meters which allow us to cruise at optimum efficiency for prevailing sea conditions. Lastly we use good general operational and engine management to minimise our fuel burn per passenger.
We minimise the use of landfills by recycling materials and composting our organic waste.
We buy local produce where possible; to reduce transport emissions, support our local economy and give clients a true taste of Nelson.
We use environmentally friendly products & buy consumables in bulk to reduce packaging.
We donate to & support the Abel Tasman Birdsong Trust's work to increase native bird populations.
We support our local community with donated outings & are name sponsors of a local junior rugby team.
We are privileged to work and play in New Zealand's Abel Tasman National Park and we are committed to the principles of conservation and environmental care that will allow future generations the same joy.